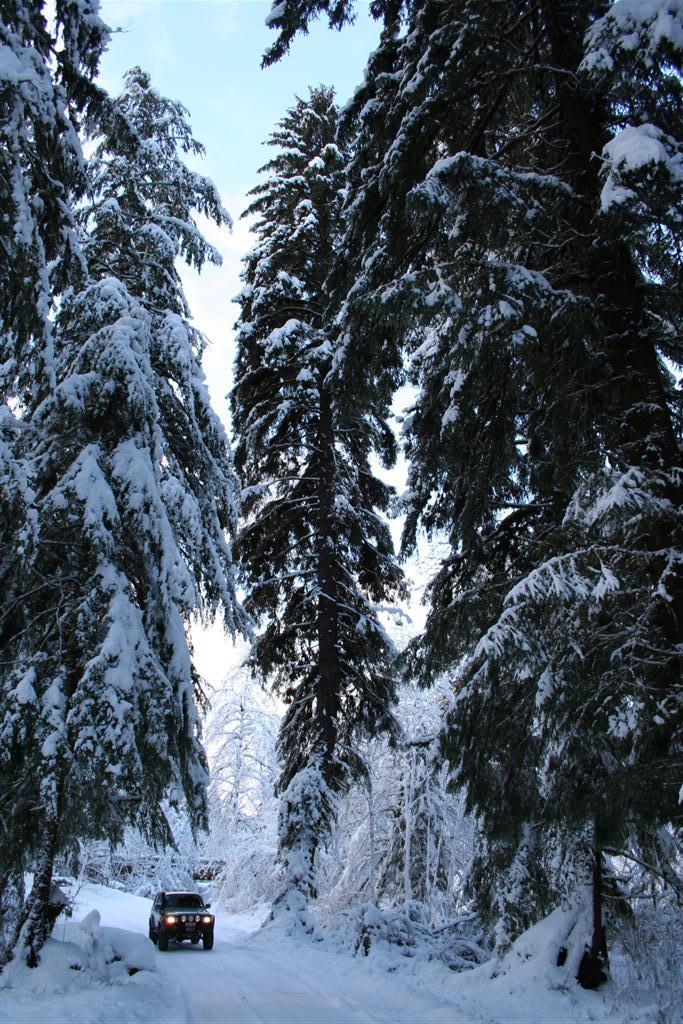 This is an older trip that took place in November of 2006 and comes from a forum thread I made at the time.
The trip started out about as expected. Delayed. My plans to leave early were affected by work and phone issues. (oh and I had to stop and give ryan some Phil and Friend tunes for his trip to Hawaii) With those items squared away and fuel tank filled I headed toward Mountain Home, ID to go wheeling with Eric Vogt. One of the concerns of traveling to Alaska is rock chips in the windshield. BC prefers to dump gravel on their icy roads instead of salt or sand. That concern, however, disappeared before I was an hour on the road. Two diesels thought it would be a good idea to ride side by side at 70mph for a while just outside of Tremonton. Eventually one of them kicked up a large rock and the windshield was cracked. Nice to have it out of the way early. My last trip to AK I made it almost 6000 miles before the windshield was damaged.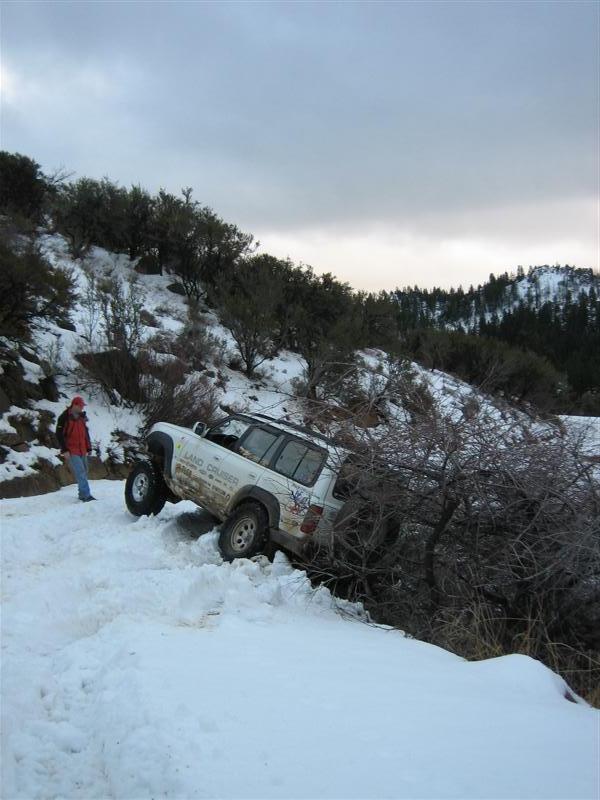 I arrived in Mountain Home 4 hours behind schedule. Stuck on a conference call at that. So with some whispers and hand signals Eric and I filled the tanks and headed west into the Owyhee Mountains for some snow wheeling. I felt bad about the tardiness and I'm sure Eric had to alter our route a bit. We climbed through New York Pass and down into Silver City. Eric had talked about Silver City and in my head it would be like a Utah mining town where the majority of the buildings are gone. Those that remained would be a mere shell of what they once were. I was in for a wonderful surprise. However, before we could get there we had some icy road ahead of us. Eric thought it would be a good idea to test my winch at the beginning of the trip and slid off the road. Attempting to right himself only resulted in lifting his front tire. We decided to unpack the gear and winch him back onto the road. I hadn't expected to use my recovery gear so the daylight faded as I dug it out. A snatch block and a stout tree were all we needed to get him back up. I doubt he would have rolled but another 4 of 5 feet over the edge and it would have been a nice long slide down the slope and a much more difficult recovery. His 3 year old Gabe wasn't sure why Eric had done it but was happy when we were headed back down the road.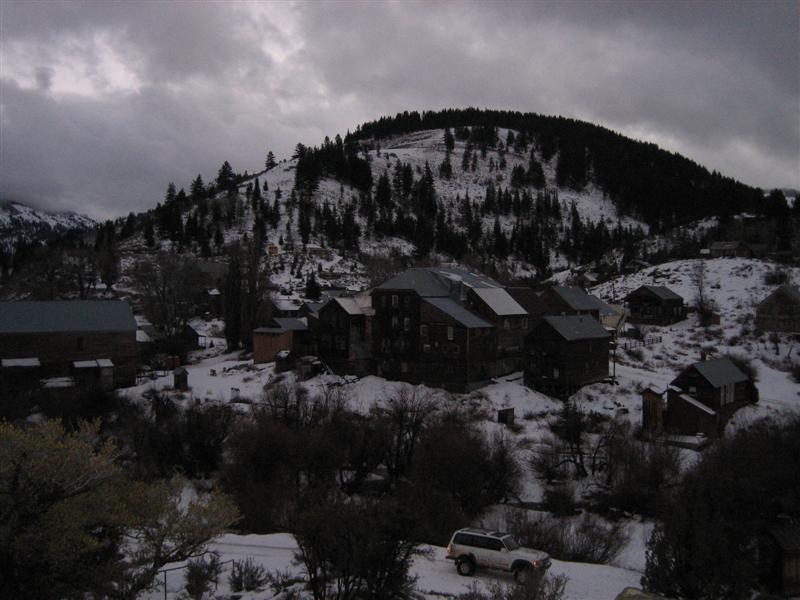 We pulled into Silver City about 20mins before darkness. Instead of the remnants of an old town we found an actual old town. 68 buildings, many occupied, full time caretaker, many homes on the National Historic Register. I took as many pics as possible before the darkness flooded the mountain valley. When summer comes around I will be going back to Silver City. Very cool place. A step back into the old west. A quick chat with the caretaker and we were off again. Eric decided to not risk a trip over New York Pass solo so he followed me down to Jordan Valley, OR where someone was there to pump our gas. No matter how much time I spend in Oregon I cannot get used to someone filling my tank for me. With a handshake we went on our separate ways. Eric with the scenic route back to Mountain Home. Me into the unknown.
I started down a dark two lane with no real plan. Before leaving SLC my plan was to cross the Columbia River at The Dalles and spend some time around Mt. Saint Helens on my way to Seattle. I pulled over to examine the map. I realized I was further south than I expected to be. S.R. 95 took me east with the diesel traffic. At Burns Junction I took S.R. 78 North toward Hwy 20 and Bend. I think the best place to view stars in the lower 48 is in the Maze, or along the UT/NV border. I'm now reconsidering that statement. Almost zero light pollution and clear skies along this lonely, central Oregon highway provided the ideal environment for sitting on the side of the road, 'watering' the rye grass and examining the stars. Before long I found myself filling the gas tank in Bend. 20 mins later I turned down a dirt two track and climbed into my sleeping bag around 2:30am.
I woke early, well early for me on vacation, about 8:30 in a nice grove of ponderosa pine. I walked around and took a few pics while Ruby Claire warmed up. A few hundred feet from my camp I found a nice view of Mt. Bachelor. Pretty decent view to start out my day. Out on the road I was greeted with breathtaking views of Mt Bachelor, Mt Washington and the 3 Sisters. I stopped to snap a few photos. As I descended toward I-5 and Corvallis the fog closed in. I drove for an hour through the fog. Lebanon, OR has THE worst layout of any town in the country. I think I traveled 20miles through town to get the 3 blocks west I needed to go. That was without any mistakes. Poor design. Scratch that. Awful design. The fog didn't help. A few miles from the coast the fog lifted and ocean came into view. I stopped in Depoe Bay to take some pics of the surf and Coast Guard exercises going on in the bay. I think I was the only person in the tiny tourist town under the age of 65. Retirees and me on a Friday afternoon on the Oregon coast. After chatting with a few of them, trying to explain what a snorkel is, I was back on the road. Plan was to get to Seattle by 7pm to spend some time with Farnes, his wife, and daughter before I stole him away for 10 days.
Lincoln City, Tillamook, Cannon Beach, Astoria. Scenic town after scenic town. I kept a keen eye out for any 'rich stuff' that the Goonies may have left behind. I loved the power of the 1FZ at sea level. I drove with way too much skinny pedal. I found some buggies ripping through some dunes and was tempted to join them but passed. Alaska was the goal not messing around along the way. Too many winding roads, too much lift and too many miles had finally caught up to the u-joints in my front driveline. A slow rumbling was getting progressively worse. It reached the point that unless I was on the throttle the car shook violently. I knew I would need to diagnose the problem and fix it before I headed in to Canada. I pulled into Seattle, actually Wallingford, convinced my trip had ended a few thousand miles short of my goal. We had a ferry reservation on Monday morning at 9:15am and only 1100 miles lay between Farnes' driveway and Prince Rupert, BC.
I removed the front driveline. Rolled around Seattle in 2wd to determine it was the problem. Of course this was redundant because after pulling the driveline I could see the u-joints were trashed. One cap was completely missing. After a phone consultation with my friend Will I logged onto IH8MUD looking for local help. (what can you say about an internet message board where people across the country offer to help out. One guy even offered to drive to the airport and ship me his spare driveline at 1am his time, amazing) Slept well that night and took what I thought would be my last shower for 4 days and work up early on Saturday morning. Got a good deal on u-joints at a local dealership and even scored a new Toyota beanie in the process. A recommended driveline shop eased my concerns about getting the job done right when I called them. They wouldn't have worked on my truck if I wasn't using OEM u-joints. We loaded up on food at Fred Meyer, picked up the driveline and headed toward the border about 1pm in 2wd. Clear sky, fresh snow in the mountains and little traffic made for a pleasant afternoon. Crossed the border in Sumas, WA with very little difficulty and into the land of Canucks. Our late start would mean a lot of driving in the dark but we would still make our ferry.
'We' would be myself and my friend Travis Jeremy Farnes. He is the same freak that drove to the Arctic Ocean with me in 2002. I saw freak with affection. He and I probably would have had just as much fun driving to Oklahoma. It just so happens that we were headed to one of the most scenic towns in all of Alaska and therefore all of North America. Of course I am biased. We both lived in Sitka at different times over 10 years ago and this would be the first trip back for both of us.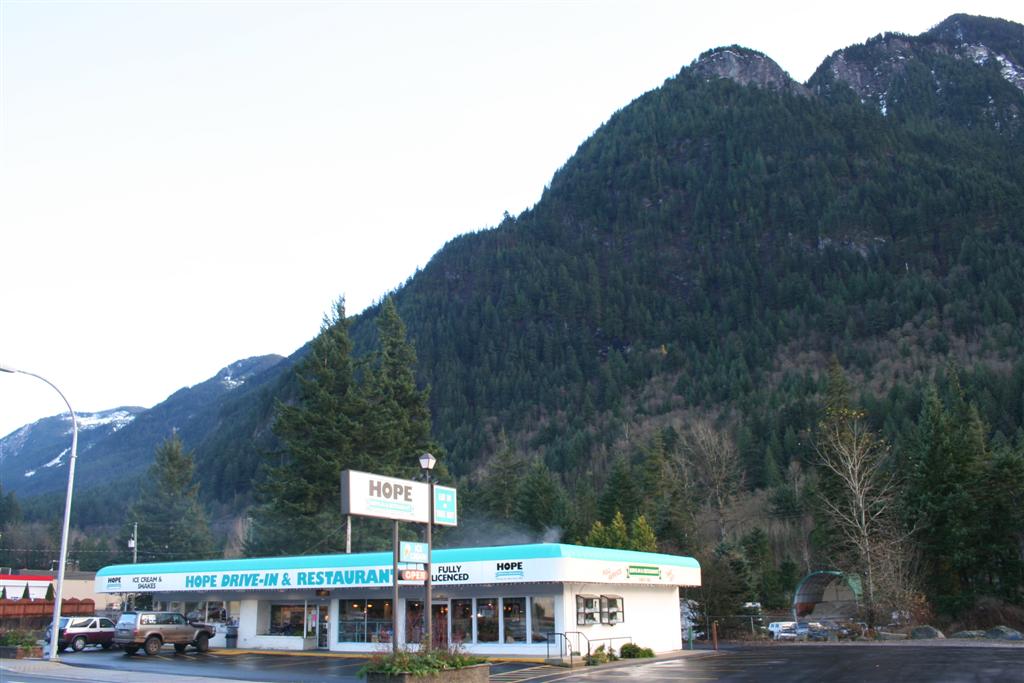 We stopped in Hope, BC to eat dinner and some vanilla Breyer's. Yes even 900 miles from home I can find Breyer's Ice Cream. Took a few pics and then north up HWY 1 toward Prince George. As we rolled through Fraser Canyon I stopped to take pics of my lowly camp spot from my first trip to Alaska in 1996. Things haven't changed. We found a bizarre gravesite with 3 crosses. Dedicated to the 'many who have lost their lives.' Not really sure the context however. Darkness settled in. (wow that cliché has never been used before) My Hellas lit the road nicely. Most Canadian roads lack for reflectors and paint so night driving can be an adventure.
We debated many things that night while pushing to get back on schedule. Religion, Neil Young, the perfect song, how cool it would be if Tron was real, the best 5 NBA players in our lifetime, he wanted to know how I could possibly choose Kareem. I blamed it on the unstoppable sky-hook. Why Donald Duck didn't wear pants. Oh wait I stole that last one from Stand By Me. Basically the stuff you talk about to pass the time. At one point it got heated enough while getting gas in Prince George that I told him to get out of my car and find a ride back to Seattle. There may have been one or two expletives used as well. 1.2 liter Slurpees eased the tension and things were fine again. I was hoping to camp near Vanderhoof or Burns Lake. 40+ mph winds made us rethink that plan. We found a motel in Vanderhoof that wanted to charge us by the hour but we got the full night rate instead. So about 3am we crashed in the Hill View Motel. Wasn't as bad as I thought it would be, although we did both sleep in our sleeping bags. The guy behind that counter was trying to talk Farnes into some acupuncture to relieve the pain in his knee. Funny stuff.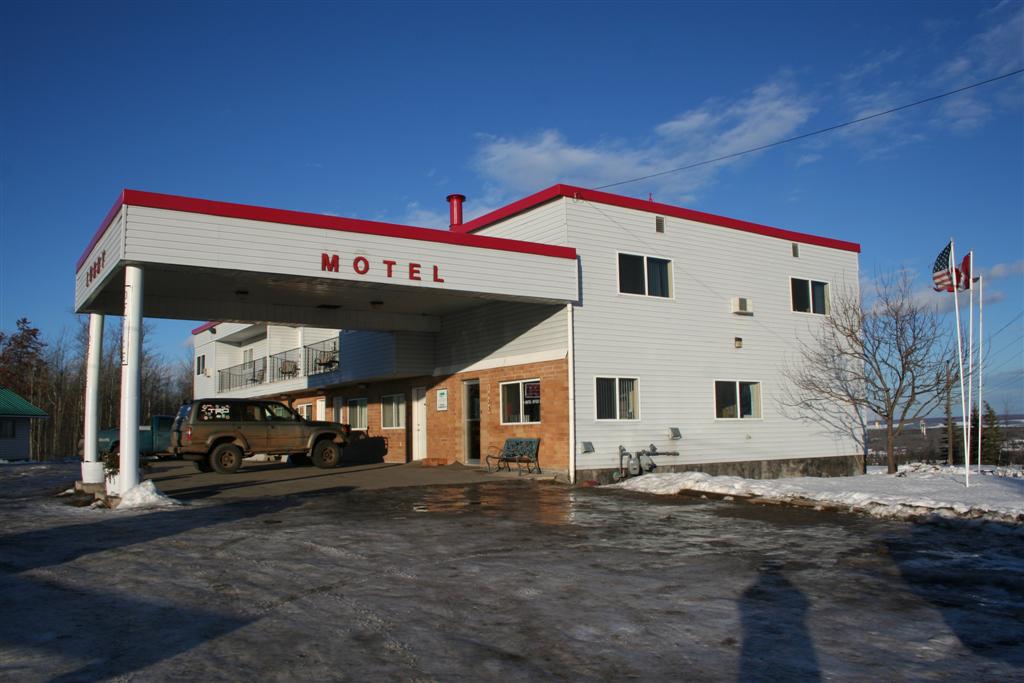 Sunday morning dawned cold. The remote start on the 80 not only warmed the inside of the car but also helped warm the engine properly in the cold weather. I usually lack the patience to allow the car to idle long enough. Vanderhoof through Smithers, BC is fairly non-descript in the winter time. In the summer this road is dotted with lakes and farms. In winter, however, it is fairly dull. The landscape blends to a consistent grey. A few of the rivers were beginning to freeze over. A local walked within 10 inches of Farnes while we were taking pics and never lifted his eyes, didn't speak a word, just kept on walking like we weren't there. Must have been trashed despite the early hour. Smithers lies at the base of the Seven Sisters. The kids movie "eight below" was filmed in and around Smithers. The views are incredible and the town is filled with cruisers. Of course I could never dig the camera out in time to take any pics. Two SWB FJ45s, a 40 and an HJ60. Lunch in Smithers, past the turnoff to the Cassiar Highway, through Terrace and then the descent to the coast. As we neared the coast we saw a small nappy black bear limping along the side of the road. Appeared to have an injured hip and more than likely would not survive the winter. We saw a few moose along this stretch as well.
The weather report in Vanderhoof had called for 100mm of rain in Prince Rupert that night. I was game for setting up the tent but Farnes wasn't going for it so he sprung for a room at the Totem Inn and the charming turquoise "Kitchenette." We had some Canadian pizza, which had bizarrely sweet sauce on it. Everything in Canada seems to be sweeter. However, the bulk Runts and Swedish Berries I bought for the ferry ride were just right.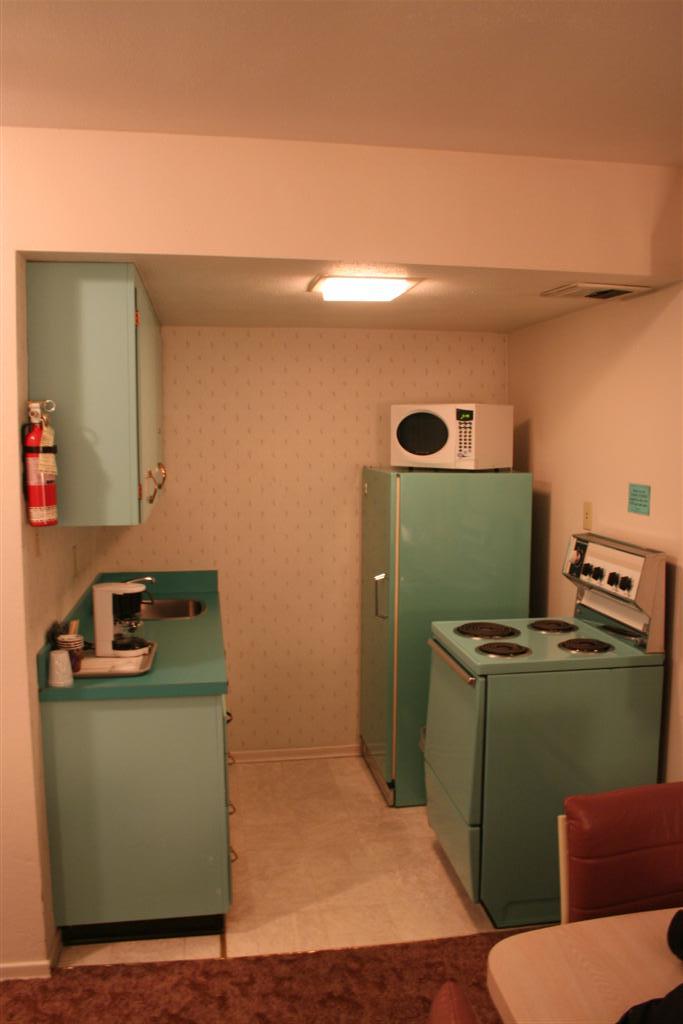 Monday morning we pulled onto the Ferry about 8:30. The Alaska Marine Highway ferries are decent sized ships. The M/V Taku holds 450 people and 80 or so vehicles. Our trip north started with 9 vehicles and about 14 people. We knew we were back in Alaska before we had ever boarded the ship. We spent our morning making small talk in the parking lot with the other passengers, down to earth friendly people willing to do anything to help us out on our journey. Over the course of the next 28 hours (yes that is how long the ferry ride lasts) we had conversations with every one of those people. Started chatting with a ski-bum from Ketchikan on his way north to Alyeska for the season. During his two winters at Alta he shared an apartment with a kid I went to high school with. Small world.
So some explanation about the ferry. A very stripped down version of a cruise ship. They have a theater for movies. I mean they have a 36in TV, dvd player, and surround sound. They have a fine restaurant. Or is it a cafeteria? State rooms, observation decks, bathrooms, showers, and of course Gopher the Purser. In the summer time the ships are full to capacity and once you find your spot you stay there for the duration of the trip. In the off season you have the ability to wander, move around and pick your place to sleep. No need for a state room when the back wall of the theater will work just as well. How do you pass the time?
Take a lot of pictures. Talk to the locals. Take more pictures. Read. Play the original Metroid and Zelda on Gameboy. Watch dvds. Take more pictures. Wander to loosen up the legs. Sleep. Wander around the small towns you visit along the way. We were using the ferry for recreation. In the winter it is used for real life. In the town of Kake (population 1500? Maybe) we saw a few cars unloading, full of presents for the holiday season. Talked to a few locals getting on headed to Juneau to load up on supplies for the winter. So along the way you hit all the small villages. Mostly native population. Some logging, some tourism. All fishing. Our stop in Ketchikan lasted 3 hours and we treated ourselves to a fine meal and people watching at The Galley restaurant near the dock.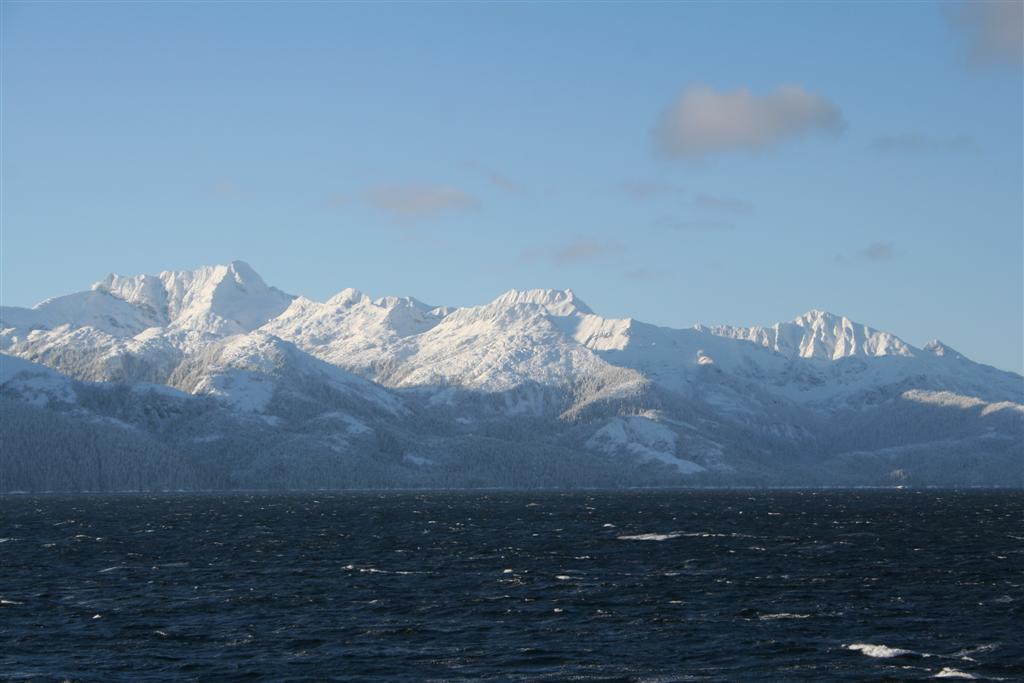 The inside passage of the Alexander Archipelago (yeah that is me using a fancy word. Basically the thousands of islands that make up Southeast Alaska) is very placid. There is enough shelter from open water to prevent large swells from forming. Occasional gaps in the protection do exist. We woke up on Tuesday morning in one of these areas. Unfortunately for us it coincided with low tide. Open sea and tidal currents made for some exciting water. I didn't quite hurl but I felt like it. Farnes and I both spent a few hours lying in a dark room until the water calmed. Around 7 pm we arrived in Sitka.
According to the locals Sitka only gets about 3 feet of snow a year. They average over 80in of rain. Well the weekend before we arrived 2 feet of snow had blanketed the town. The roads were slick and I eased my way the 7 miles into town in two wheel drive. Temps were in the low teens and the idea of installing my driveline was not a pleasant one. We checked into the Shee Atika' Totem Square Inn. Farnes went for a walk only to return with some Terkyaki. I wandered looking for ice cream and American coke. One of the few things that Alaska lacks is fountain drinks. They are few and far between. Especially in the southeast. So I settled for some Dr. Pepper from the ARB Fridge and Runts for dinner. It was nice to be in a real hotel with clean sheets and towels.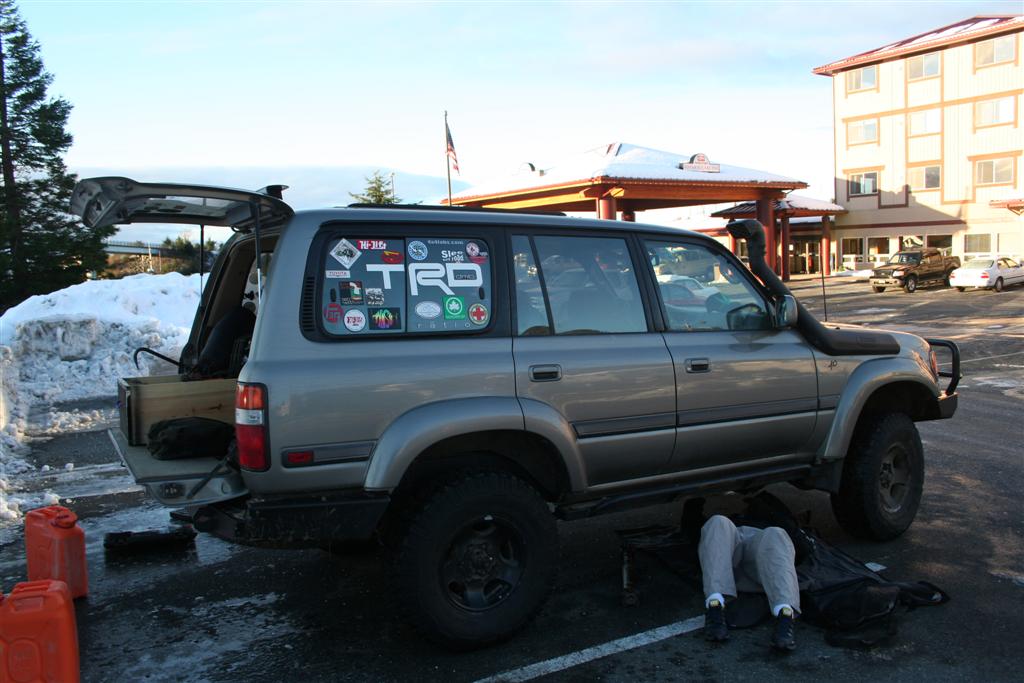 Early weds morning I open the blinds to another day of sunny skies and beautiful vistas. Of course before I could enjoy it fully I had to go lie on the frozen asphalt and install my driveline. Some ice cold driveline bolts and bare fingers didn't help the process but 30mins later were we rolling.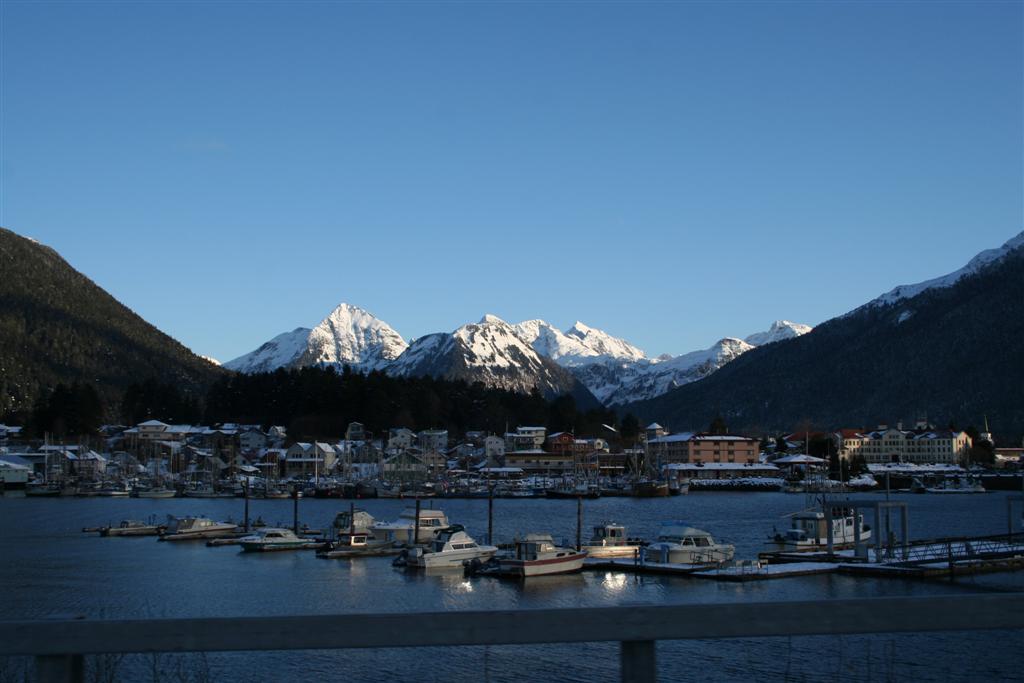 We've all had instances where the mind creates an image and mystique of a place or event in our lives. There is always the fear that the expectations are better than the reality. I vividly remember when I left Sitka in Sept of 1994, as the plane climbed over Baranof Island, I looked down on the tiny town with a deep sadness. It was a town I had grown to love dearly and I doubted if I would ever return. The trip to Sitka so far had been one of great natural beauty and a lot of laughing. However, in the back of my mind I was hoping that the Sitka in my past was not an ideal that reality could never match.
The town was all I remembered it to be and more. The dormant Mt. Edgecomb stood defiant in Sitka Sound. Harbor Mountain, Arrowhead Peak, and Mt. Verstovia towered over the tiny town. The Tongass National Forest was blanketed in fresh snow. The town had grown and yet remained the same. We wandered around the town recalling our experiences there. The apartments we lived in. The covered outdoor basketball courts. The Alaska Raptor Rehabilitation center where we volunteered. As we headed south of town a few eagles were feeding on road kill. I had the pleasure of releasing a rehabilitated bald eagle back into the wild when I was there and couldn't help but wonder. Yeah extremely sappy and melodramatic but that's how a town like Sitka can affect you. After exploring the downtown and visiting all of the local sights we headed out north of town to the artesian well and hopefully some wheeling up the Harbor Mountain road. Little did I think I would be using my winch 3 times in Alaska. Of course that will have to wait until I have the energy to type again.
North of town we found a surreal wonderland of snow and rainforest. 150 foot Sitka Spruce and Tamarack trees blanketed by a foot of snow. Of course, true to the nature of Alaska, in the middle of this unrivaled landscape we found a random singlewide. I snuck a pic of the trailer, fell in the fluffy powder and got out of there before the eccentric owner could come after us. I was a bit bummed for the road to be gated but we had another option for some wheeling. Harbor Mountain rises about 2000 feet from the ocean's edge. The access road is a tight winding gravel road that I used to rally, ebrake drifting and all, in my ford escort wagon. I thought it would be worth the effort to try and get to the top. In the last 10 years they had moved the entrance to the road so they could add a golf driving range (should have brought my clubs) and it took some exploration to find our way onto the road. We made great time for the first few miles only to come around the corner to find a native stuck on the side of the road. After a short chat we agreed to pull him out. He was hoping to get his 2wd S10 up to his friends stuck truck another half mile up the trail to pull him out. I guess the street tires and some alcohol were not enough to get up there. An easy winch pull and he was out. I backed down to a spot where he could get by me and down off the mountain. Now it was time to pull out the full size truck. We found the odor of more alcohol and Farnes found himself another friend pouring out his life story. I had to pull a few times and change the angle once or twice but eventually we winched him out. As we were helping out, a couple of kids showed up in a chained up suburban on their way to retrieve a Dodge Neon stuck just around the next corner. Our leisurely drive was turning into a winch fest. I backed down again to let the full size truck get by on his way down the hill. The truck had belonged to this old man's son who had died of alcohol poisoning a few years earlier. Not really sure why he told Farnes this story but it was obvious this man was trying to drink away the pain. He offered us money 3 times. Eventually I just said okay because it was easier than saying no. It paid for dinner and a movie so it worked out okay. In my haste to get out of the way I slid off the side of the road. He got by me and I dug out my treesaver strap. The winch pulled me out no problem. I pulled at an acute angle to the road and was able to use the pull point to 3 point turn and get faced down the road. The kids had managed to get the Neon out with a shovel and a come-along. They did pose for the camera in our attempt to fully document our trip.
By this time I was sopping wet. The sun was nearly set and we still had to explore the tourist shops in town. Farnes wanted to buy some gifts to take back to his daughter. I was bound and determined to find some stickers and a nerf basketball hoop for the ferry ride back south. We managed to find both. In another bizarre interaction with an Alaskan I over hear Farnes talking about Insane Clown Posse with some 20 year old local at the gift shop. It's truly amazing how he can relate to anybody. The old man on the ferry and the 20 year old Juggalette as ICP fans are called are just 2 of the dozens of strangers I've seen him befriend over the years. We snuck back by the hotel to poach their wireless and upload photos and then headed out to the LDS church so I could warm up and change my clothes. Clean and refreshed we wandered around looking for food. A Chinese run Italian joint offered awful soup but rich and warm entrées. Our ferry wasn't schedule to leave until 3am so we decided to go see a movie.
Happy Feet and Casino Royale were the choices. We arrived at the theatre to find out that the town actually had 2 theaters. So with the directions "it's on Sawmill Creek Road next to Spenard Building Supply" we set out to find it. After driving around an industrial park for 20mins we decided to ask a local out walking her dogs in the 15 degree air. She pointed to a warehouse with a light on in the front window. So we parked the car and entered what should have been a machine shop or boat repair. Instead we found a decent sized screen with solid sound and stadium seating. Okay I made up that last part but at least we had cup holders and leg room. I forgot to mention all the old school video games. More on that later. So after traveling all the way to Alaska, interacting with the stereotypically insane locals for the last 3 days and finding a movie theatre in a warehouse I was once again reminded of how small the world actually is. After the Rocky Balboa preview a light chuckle with some snide remarks bubbled from the dozen or so patrons. Seems like even Sitkans realize that Sly needs to hang it up for good and move on to other things. I know most people think that Rocky V never happened and now he thinks this movie will make any money? Anyway.
After the movie Farnes and I talked the kid behind the counter into letting us play video games for a bit before closing. He said we could stay all night since he gets paid by the hour. After we split the first 2 rounds of pinball we moved over to the Ms. Pacman machine. There must have been just the right amount of pizza grease on the joystick because after destroying me Farnes went on to set the high score on the machine. I made him pose next to the machine for his fine achievement. I wanted to put a few bucks into Crystal Castles but we had to get to the store before midnight to load up on food for the ferry. We settled on turkey, rolls and pudding to have some semblance of Thanksgiving Dinner on our way south.
The ferry to Sitka travels through a very narrow stretch known as Peril Straits. Because of current and water levels there are only a few windows each day that allow this passage to be negotiated safely. We had hoped to be on the ferry by 1 and sound asleep shortly thereafter. The oceans had other ideas. Our 3am departure had been delayed until 4:30 and the ship wasn't set to dock until 3. I told Farnes, an urbanite at heart and a user of public transportation, to trust my judgment and I threw Dust to Glory into the dvd player. What better movie to watch in the snow covered parking lot, at 2am, with single digit temps outside than a documentary about the Baja 1000, right? I wandered outside my Cruiser every 20 mins or so hoping to see the Northern Lights. Farnes was totally enthralled with the movie. He had no idea such a race and such a culture existed. A lifelong dream for me to race in the Baja was something he never knew was even possible. "I don't care if have to carry the toilet water. If you ever do it I'm going to be a part of it" was his comment. Those familiar with the movie know how he could feel that way.
We finally loaded on the ferry and before long I was sound asleep. The ferry south was much like the ride north. Beautiful weather, lots of pic taking and some boredom. The Nerf hoop proved to be a genius purchase. We killed almost 3 hours playing horse the second night. Farnes even took to vacuuming up the movie area so it was cleaner for us to sleep in. The restaurant provided a decent Thanksgiving feast. The 14 passengers all convened around 6pm for dinner. The $8 price tag was cheap by Alaska standards and they threw in free pie and drinks.
There was one major negative to our trip. Passengers are only allowed on the vehicle deck while docked so any food that requires refrigeration must be in small portions. Basically the Tillamook Medium Cheddar Baby Loaf does not agree with ferry travel. Except that when it's sub-freezing outside you can use Mother Nature as your fridge. Unfortunately on our second night the garbage sack we'd been tying to the rail on the deck disappeared. A few cans of coke, our lunchmeat, my pudding snack packs and my $10 cheese slicer just up and walked away. Pretty frustrating. Who would still someone's food? Bastards.
We arrived back in Prince Rupert about 10am on Friday morning. Farnes hadn't stopped babbling about Dust to Glory as well as the help I'd received from IH8MUD. He kept telling me how fortunate I was to be involved in the Land Cruiser world and the friendships I've made because of it. The fact that some random dude from Ohio that I've never met offered me his driveline or that I formed my friendships with Darren, Ryan and Will (he has met ryan and will) because of a random Japanese vehicle is just completely foreign to him. Why do I bring this up? Because Toyota people are different as we would find out once more.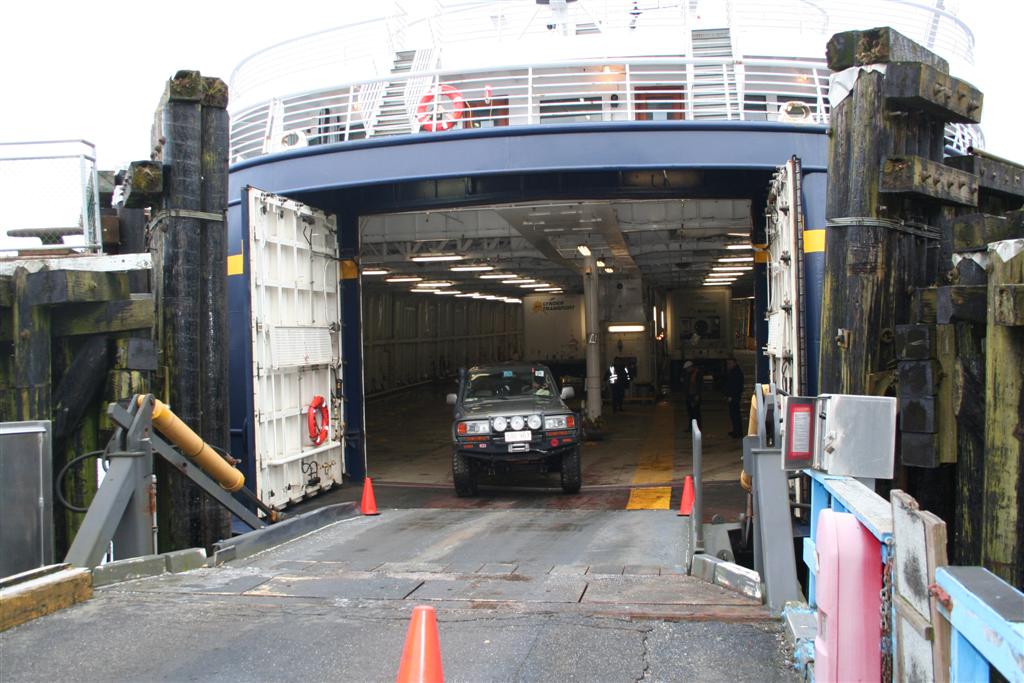 The ferry only had 11 vehicles on it. You have to pass through Canadian customs immediately after leaving the ferry. Because I wanted some pics we ended up being the last vehicle off. All 10 cars in front of us were pulled aside and searched by the 3 border agents. You all know what my truck looks like. We were anticipating the drug dogs. The agent approached my window.
"is this thing a diesel?"
"no I wish Toyota didn't offer diesel in North America"
"yeah I know, my wife and I are in the process of importing a diesel hilux through Vancouver right now, I just noticed your Aussie plate and thought it might be."
He takes our ID and goes inside. He comes back out, we chat for 5 of 6 minutes about Toyota diesels and his old HJ60.
"you fellas have a safe trip"
With that we drove past the 10 cars still being searched, the incredulous looks from their passengers, and hit the road home.
It's hard to explain to people why I would go through all that effort for only 5 days in Alaska and most of that on the ferry. I can only try. Alaska grabs a hold of your soul and regardless of the time away it becomes a part of you. The eccentric people, the purity of the air, the rugged landscape, the intimacy with the wildlife all combine for an experience that lingers indelibly in your daily life afterwards. I haven't even mentioned the 40 or so whales we saw because they are so common it doesn't feel exceptional. For anyone who has read this far I will just say that if you like the outdoors and the natural world find a way to get there. It's a very long way up there and I recommend that you take at least 3 weeks but go before even it because overrun with pollution and overpopulation.
Up until now you've been reading a combination of posts from the Wasatch Cruisers forum from just after the trip.  From here on out I'll be going on memory and it's one that's rapidly failing. Luckily not much happened.
We left Prince Rupert and made the gorgeous drive up the Skeena River, climbed up the Trans-Canada Hwy and eventually rolled into Prince Gorge to a bitter -17 temp. Somewhere outside of town we saw a sign for Moe Road.  Figured it would be a good souvenir and pulled over to 'put some gas in the tank' while we also worked on removing the bitterly cold aluminum street sign. The cold was getting to us and Ruby as she started to make some uncomfortable noises. After dinner at Wendy's we looked for a bed. In lieu of the pricier motel options we crashed in another dive.  $30 a night or so.  Best part was the 2 in gap under the door. Again -17.  Our simple fix to this was to sleep in sleeping bags and then pile the blankets over the gap.  Somehow Farnes decided to use his Ralph Lauren down comforter and pillows that he'd brought from home, unbeknownst to his wife, on the disgusting bed that night.  They also got left behind the next morning and as far as I know she has no idea what happened to them.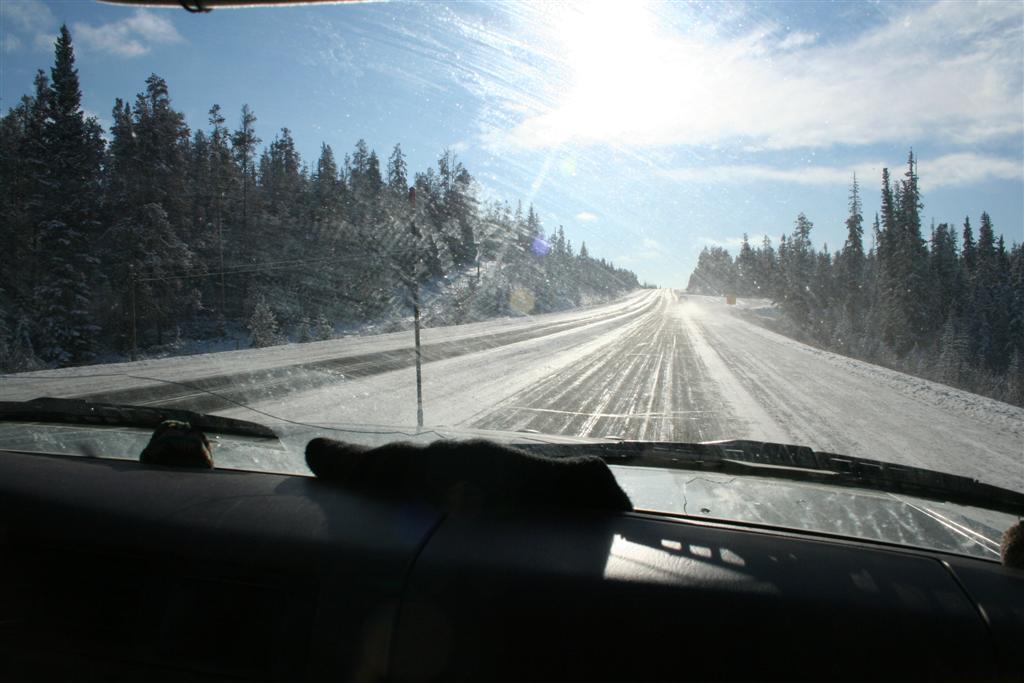 We woke up early the next day. Let Ruby warm up for a good thirty minutes before hitting the road.  The plan was to get all the way to Seattle that day where Farnes' family was planning a late Thanksgiving dinner for us. Sun was out and the roads empty so despite the occasional patches of ice we made good time.  We arrived in Hope, BC about Sunset and got some gas as well as posing with the Rambo cutouts.  A storm moved in and the last few hours into Seattle were slow and soggy as the rain fell in torrents.  Just a few hours late we pulled into the driveway for a delicious dinner and a safe return (halfway) home. We finished eating about 10pm and although this may sound crazy to most I wanted to head home.  I still had 800 miles to cover and had to be to work on Monday. I wasn't tired so I decided to hit the road.  A rainy night turned to snow as I crossed Snoqualmie pass and down toward Yakima. I pushed pretty late that night and 'camped' along the river between Ellensburg and Yakima.
When I climbed out of my sleeping bag the next morning, having slept on the reclined passenger seat there was 6 inches of snow blanketing my truck.  I meandered down the twisting road to Yakima and pick up the freeway again. I knew that the Blue Mountains and the start of a long day lie ahead.  Luckily I was headed Eastbound.  As I climbed out of Pendleton there was very little traffic in both directions and the roads were slick by not impassable.  Just as the switchbacks flattened out and ascent toward the summit becomes much more gradual there was a wreck in the westbound lanes.  A jackknifed diesel was blocking both lanes and had come partially into the eastbound lanes.  Holiday weekend traffic, 8 inches of fresh snow and poor visibility was going to make this a mess. I quickly snuck (sneaked?) by the accident and counted myself lucky that I wasn't headed west.  There are only 2 or 3 exits the entire stretch between Pendleton and Le Grande, about 50miles, and nowhere for the traffic to go. I crawled along about 20mph over the summit. The traffic in the westbound lanes was backed up a good 30 miles.  Not the way I'd want to end my Thanksgiving weekend.  Once I hit Le Grande the snow stopped, the roads dried up and I had an uneventful drive home.
I was rather fatigued when I got home but had another awesome trip under my belt.  It had been over 10 years since I'd been in Sitka and it was everything I remembered it being. Amazingly beautiful, wonderfully quaint and worthy of the effort to get there. Even a short sprint to get there and back.
dmc